Welcome to World Class Global Investor Relations
World Class Global Limited is a real estate company that undertakes property development and property investment in major cities in Australia and Malaysia.
Our development projects include Australia 108 and AVANT in Melbourne, Australia, which we have launched.
We also hold various land parcels in Penang, Malaysia, which comprises mainly shophouses. We plan to develop the land, and in some cases, refurbish existing buildings on these site, into commercial and/or residential premises.
We may in future expand our business to include property development in other sectors, including the industrial and hospitality sectors, and may acquire new properties in Australia, Indonesia, Malaysia, New Zealand and the Philippines. We may also acquire or develop properties for investment purposes in these countries.
Prospectus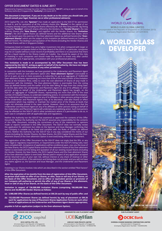 Download
Prospectus
(9.48 MB)
Annual Report 2018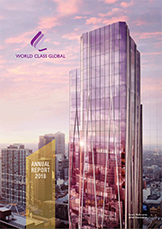 Download
Annual Report 2018
(7.61 MB)
Sustainability Report 2018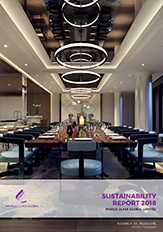 Download
Sustainability Report 2018
(0.5 MB)
Sustainability Report 2017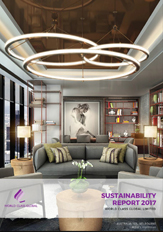 Download
Sustainability Report 2017
(0.82 MB)
AGM Minutes 2019
Download
AGM Minutes 2019
(0.18 MB)
EGM Minutes 2019
Download
EGM Minutes 2019
(0.18 MB)
Stock Information
Listed on the Singapore Stock Exchange (SGX: 1E6), World Class Global Limited is a subsidiary of Aspial Corporation Limited, the company was incorporated in 2013 and is based in Singapore. Please click here to Singapore Stock Exchange web site for a live quote, stock chart, general announcements and financial results of World Class Global Limited.